Q: What is Beyond Complete?
Beyond Complete™ is a delicious high-protein, nutrient-infused shake scientifically formulated to help you fix "toxic" fat cells and manage your weight, support your already healthy blood pressure, and maintain healthy blood sugar.*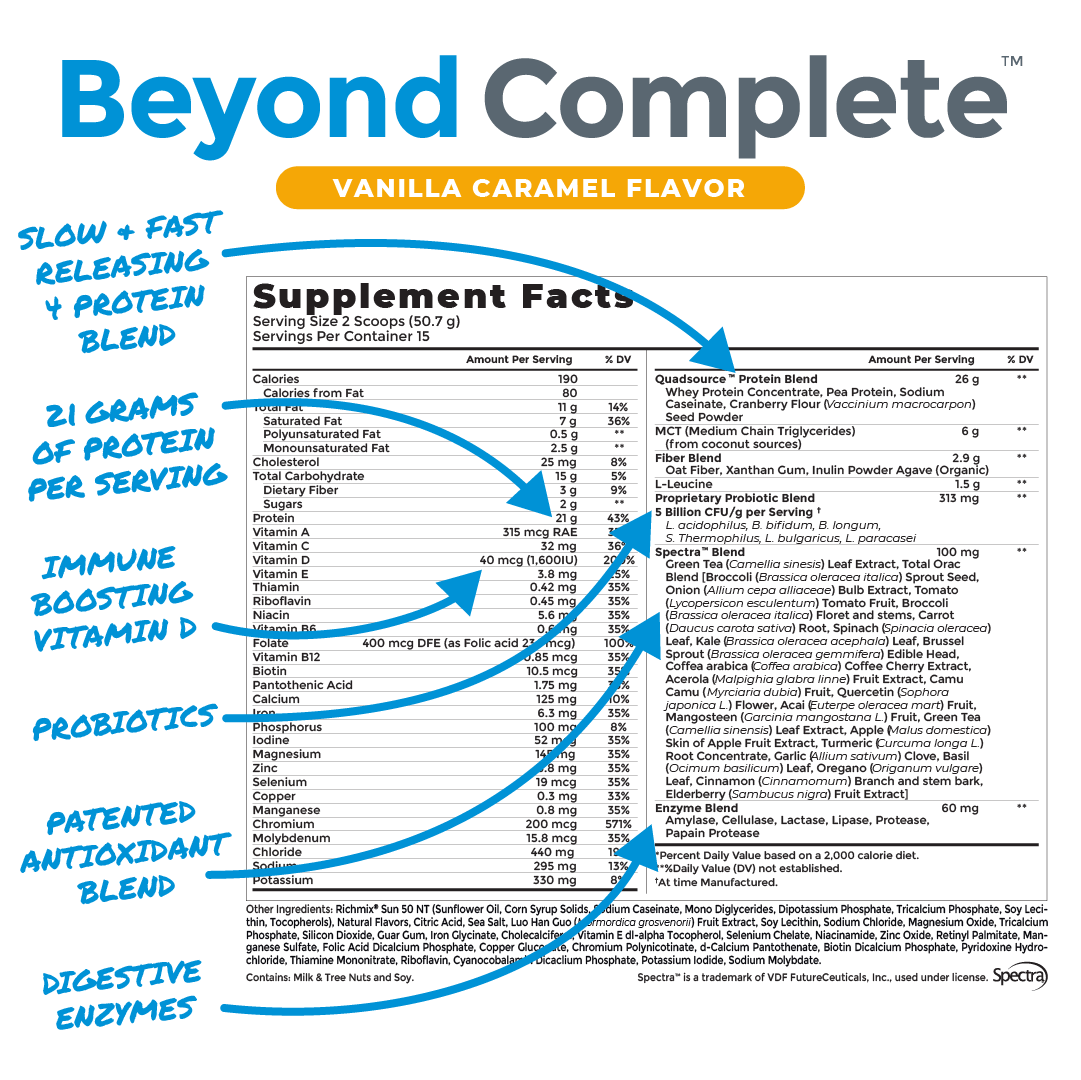 How does Beyond Complete work?
Beyond Complete™ will supercharge your fat burning ability and metabolism, all while boosting your heart health and supercharging your energy levels.
What are the ingredients and amounts used in the formula?
Beyond Complete features 23.5 grams of the slow and fast-digesting QuadSource™ Protein Blend of hormone-free whey, casein, pea, and cranberry seed proteins, all working together to help you feel fuller, longer…curb your cravings…and help you build and maintain lean body mass. With just 8 grams of low-glycemic net carbohydrates, only 1 gram of sugar, 5 grams of fiber, and 6 grams of MCT-rich coconut fat
What is the best way to use Beyond Complete?
Add 2 scoops of Beyond Complete™ to 8-10 fl. oz. of ice cold water and mix vigorously until smooth. We recommend using a blender or shaker bottle with wire ball for best results. You may also use other cold liquids like almond milk or coconut milk for a smoother, creamier texture. To ensure an accurate serving size, please use the scoop provided with your product. Fill the scoop and tap the bottom 3 or 4 times
How many servings are in each bottle?
There are 15 two scoop servings per container
How long do I have to use this product before I see results?
To ensure your success, it's critical that you use the products as directed, every day, and for a full 30 to 45 days to achieve the results you deserve and desire.
How does this apply to you?
If you're over 40 years old and you're finding it harder and harder to lose stubborn fat, or you're looking to protect your body from disease, while fighting against again this product is for you.
Why should I use Beyond Complete?
It helps enhance metabolism and minimize muscle loss while curbing hunger and cravings. For best results, a healthy weight-loss program should also include modest caloric intake, a healthy diet, and regular physical activity.
Should I keep taking Beyond Complete after I achieve my goal?
You may safely and confidently take Beyond Complete as long as needed to achieve your goal and beyond.
Can I take this with other Beyond 40 supplements?
Beyond Complete can be taken with the full line of Beyond 40 supplements.
What other Beyond 40 products does this stack best with?
Beyond Complete works well with the full line of Beyond 40 supplements including the Hormone Bundle, Rapid Fat Loss Bundle and Blood Sugar Bundle.
Does Beyond Complete contain caffeine or other stimulants?
No
Are there any allergy concerns with Beyond Complete?
Contains: Milk, Tree Nuts, Soy and Sunflower.
Is Beyond Complete soy-free?
No
Is Beyond Complete dairy-free?
No
Is Beyond Complete vegetarian-friendly?
No
If I have a medical condition, can I take Beyond Complete?
Beyond Complete is made with natural ingredients and are considered safe and effective for nearly everyone. However, if you take prescription medications or have a medical condition, we recommend that you show a bottle of your supplements to your physician and/or pharmacist for proper approval. You can always return it later with our 60-day Money Back Guarantee.
Can I take Beyond Complete while pregnant or nursing?
Prior to taking any nutritional supplement, those who are pregnant or nursing should consult with their physician.
What is the shelf-life for Beyond Complete?
Store for up to 2 years in a cool, dry place away from heat and light. Refrigeration is not necessary but may be used if preferred; please note that if not properly sealed, moisture may cause clumping.
What is the best way to store Beyond Complete?
We recommend you store your Beyond Complete in a cool, dry place out of direct sunlight. This will extend the functional life of the ingredients.
Are there any adverse affects to taking Beyond Complete if you drink Alcohol?
We have cited over 200 research papers preparing our formula and nothing indicates an interaction with wine or alcohol. However, every person is different, so please consult your physician before making any decisions about dietary supplements.
What flavors does Beyond Complete come in?
Beyond Complete is currently available in Chocolate Ice Cream and Vanilla Caramel flavors.
Where is the milk in this?
Whey protein is protein sourced from milk.